dispatch
Answering
the call
Behind every Hatzalah call in NYS, there's an extensive army of dispatchers, all coordinated by Central Hatzalah.
response, because safety
never sleeps
dispatchers on rotation for responsiveness
hour shifts
due to the intensity and pressure of dispatch

dispatch centers strategically located throughout NYC and Catskills region
Two-Tiered
Response System
Hatzalah Computer
Aided Dispatch (HCAD)
Dispatcher-Aided Assistance
Coordination with Fire and Police Departments
Two-Tiered Response System
Central Hatzalah's unique response strategy places speed as its first priority.
Dispatch locates and sends the closest available
volunteers to the scene of an emergency in privately
owned NYS-DOH certified emergency vehicles,
equipped with a full complement of life-saving medical
equipment. These First Responders are primarily NYS-
certified Emergency Medical Technicians (EMTs), but
may include paramedics and physicians who are
trained to provide Advanced Life Support.
When necessary, first responders can quickly upgrade level of care by requesting ambulances,
paramedics and physicians for Advanced Life Support.
We've partnered with a leading hospital that offers on-
scene Medical Control over the phone, wherein
volunteers receive immediate one-on-one guidance
and hands-on direction as needed. Volunteers can also
access appropriate assistance from city and state
agencies.
Volunteers contact the destination ER en-route,
setting the stage for speedier intake. In critical cases,
the emergency room is placed on "standby", which
means that emergency room nurses and physicians will
be waiting at the door to immediately render aid upon
their arrival.
Hatzalah Computer Aided Dispatch (HCAD)
Central Hatzalah's proprietary, cutting-edge computer-aided dispatch system provides dispatchers with vital technical assistance.

✔Intakes many calls simultaneously
✔Provides accurate caller ID and location
✔Instantly tracks & locates the closest units
✔Instructs callers regarding pre-arrival procedures

Hatzalah Computer Aided Dispatch (HCAD)
After our volunteers are sent to the call location,the dispatcher often stays on the line with the caller to provide pre-arrival life-saving instructions to assist the patient immediately and/or to ensure that there is quick access to the patient.

Coordination with Fire and Police Departments
In a mass casualty incident (MCI), or when patients are trapped in vehicles or in burning or collapsing buildings, our dispatchers can instantly connect to NYC & NYS resources. In order to ensure seamless coordination at all mass casualty incidents, Hatzalah participates in joint exercises and training with City, State, and other emergency medical providers. Hatzalah shares a mutual aid agreement with NYC to provide resources to NYC EMS whenever needed.

In addition to handling all legalities and licensing for all of our branches,
Central Hatzalah ensures all certificates and legal requirements are
punctiliously tracked across the board.
Our complex compliance platform:
Confirms all vehicles and units are registered with the proper certifications
Proactively monitors all registrations to ensure they maintain strong standing
Reviews and researches all new members and their vehicles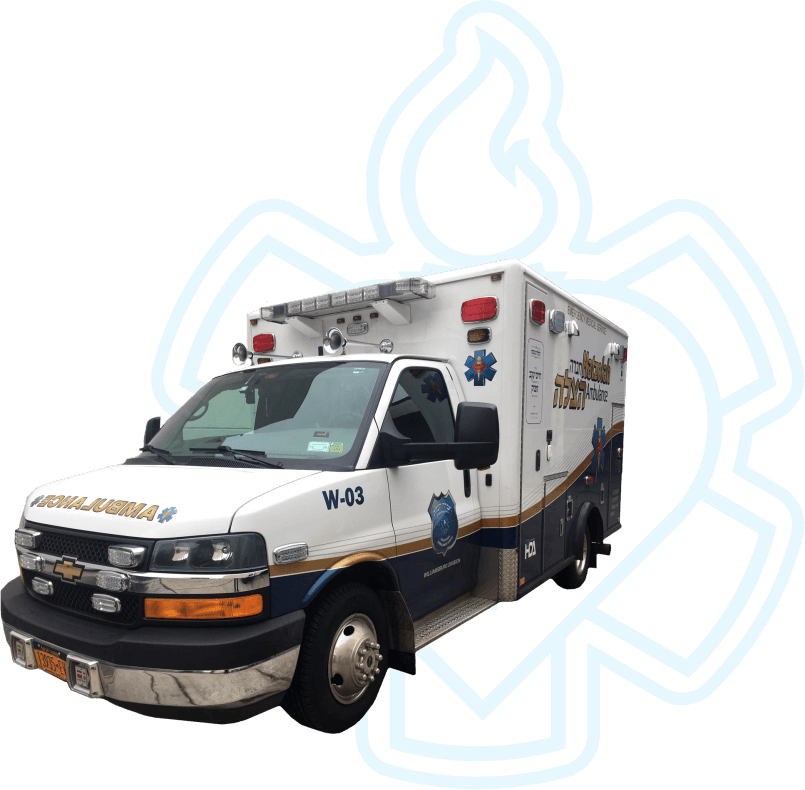 training
Above & beyond
the
call of duty
Central Hatzalah coordinates, oversees and ensures rigorous EMT
training programs for the full Hatzalah NYS network.
Local branches
Hatzalah of Crown Heights

Hatzalah of the Rockaways & Nassau County

Hatzalah of Staten Island

Queens and Great Neck Hatzalah

Washington Heights Hatzalah
No search results
Communities we serve
Averne
Atlantic Beach
Bayswater
Belle Harbor
Bensonhurst
Bergen Beach
Bergen County
Borough Park
Briarwood
Brighton Beach
Canarsie
Cedarhurst
Crown Heights
East Rockaway
Far Rockaway
Flatbush
Flushing
Forest Hills
Georgetown
Great Neck
Hewlett
Hillcrest
Howard Beach
Inwood
Jamaica Estates
Kensington
Kew Gardens
Kew Garden Hills
Lawrence
Long Beach
Lower East Side
Midtown Manhattan
Midwood
Mill Basin
North Woodmere
Queens
Rego Park
Remsen Village
Richmond Hill
Rockaway Lawrence
Riverdale
Rosedale
Sheepshead Bay
Starret City
Sea Gate
Staten Island
Sullivan County
Ulster County
Upper East Side
Washington Heights
West Lawrence
West Side
Woodmere
Williamsburg
Yonkers